We are aiming for exchange point between people and culture in Kagoshima.
I would like to make places for travelers and locals to interact with each other while having fun.
Because of that feeling, "Guest House Banvina" was born.
The retro building of the 1970's has been reborn, not only in the guest house,
but also maintaining the appearance as a place where everyone can relax,
such as cafe, co-working space, laundry, tea room.
We are looking forward to seeing you at this place near Kagoshima Central Station.
Cafe & Guest House Banvina
Reception 16:00 – / Check-in 16:00 – 19:00



We welcome travelers from all over the world gathering in Kagoshima with a 2F guesthouse.
Room has dormitory, double room and twin room, both can be accommodated at reasonable price (toilet, shower, kitchen, lounge etc are shared facilities).
It's simple, but we have what you need. You can feel free to spend it.
Open 11:00 – 20:00 (L.O 19:00) 
We are regularly closed on Thursdays.
---
1F is a cafe & co-working space.
We introduced a full-scale espresso machine at our cafe. The coffee brewed by the home roasted specialty coffee beans is exceptional. You can also take out.
The cafe space is equipped with high-speed free Wi-Fi and laundry space is also available.
The co-working space is also equipped with a printer and a copier, so it can be used as a functional workspace for those who are Nomad workers and freelancers.
In the laundry space, Electrolux 's fully automated washing and drying machine is also arranged, and you can relax until the end of washing while drinking coffee.
There is also a co-working space in 1F. There, you can open meetings and events.
1F Coworking and Event Area
Open 11:00 – 20:00 



---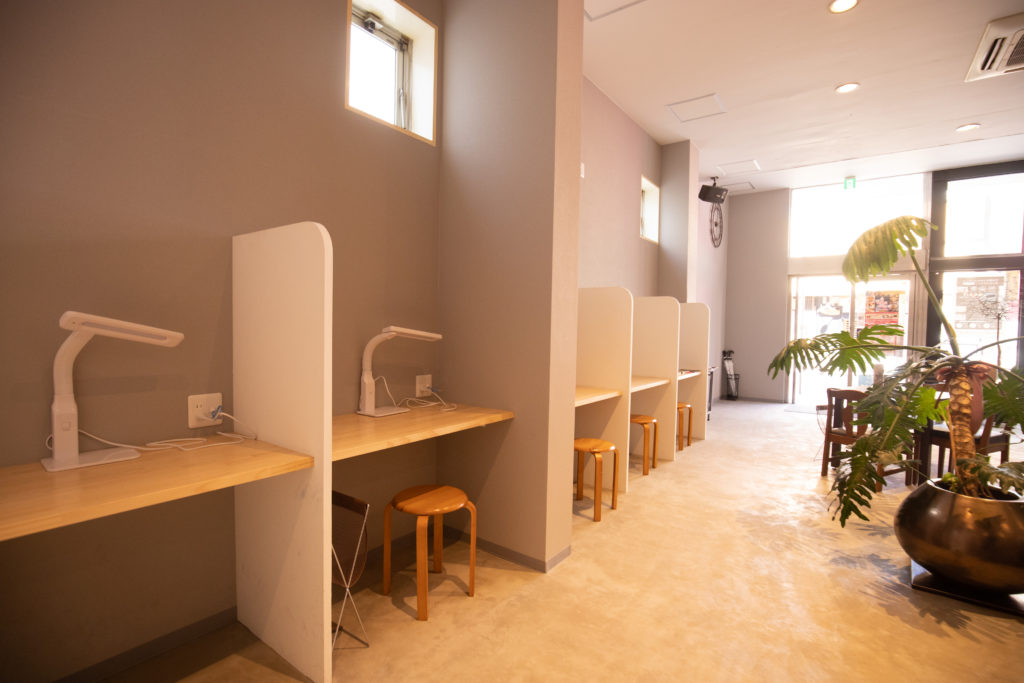 You can use 1F 's Counter Counter Space or Private Room Booth, and order coffee etc at the café in the hotel, you can work in the Coworking Space. Those who wish to hold an event can also charter
If you order a drink, you can freely use the co-work counter space. However, the use time is up to 2 hours. Private room booth will be charged.
Single room booth plan list (ex.)
1day use … 1 booth: ¥4,000 / day
Half-day use … 1 booth: ¥2,500 / 6 hours
1 hour use … 1 booth: ¥1,000 / hour 1 drink is free.
Copy and FAX machine  Scanner  Free WiFi  power outlet
Please contact us before you use.